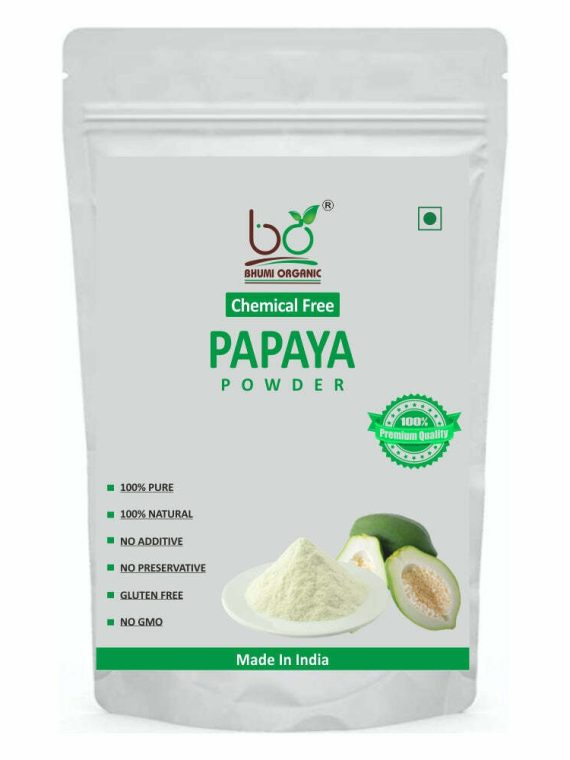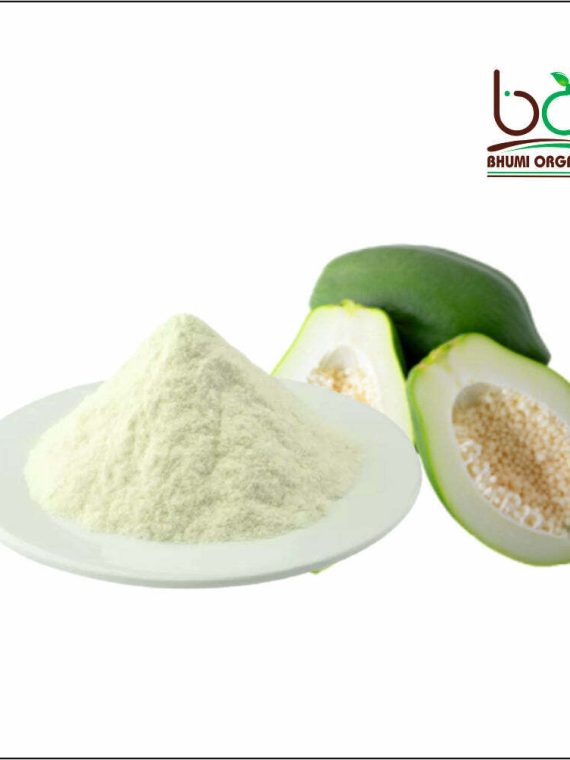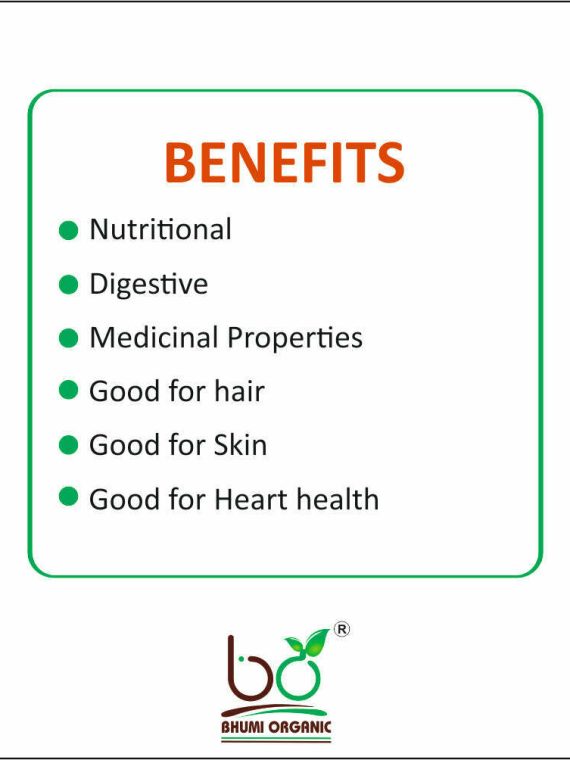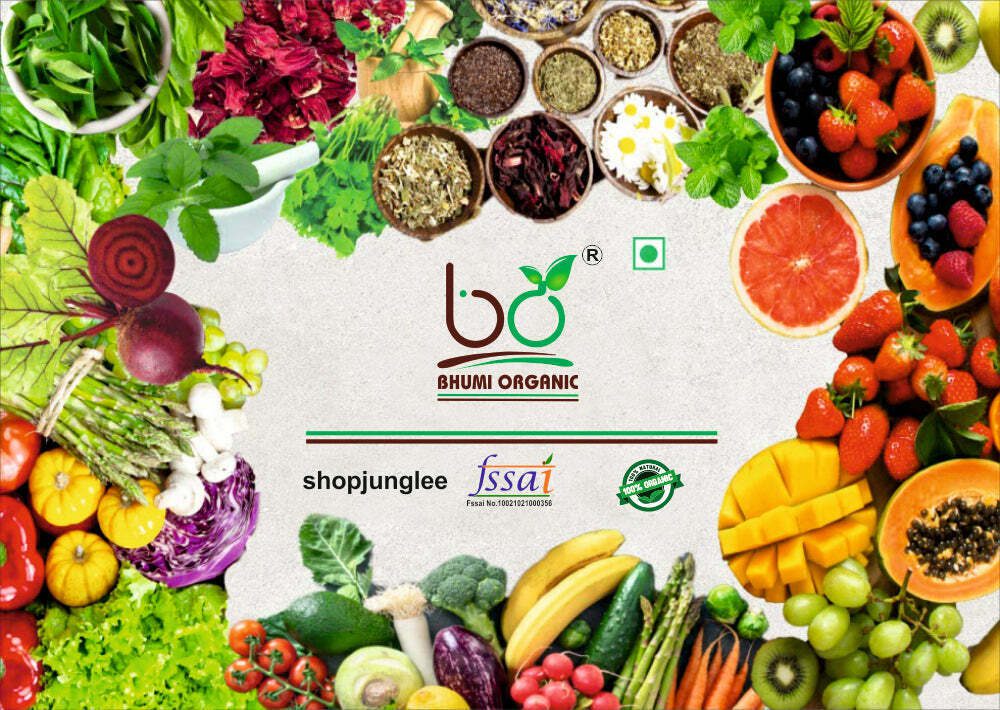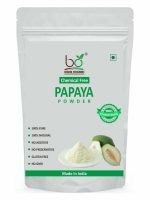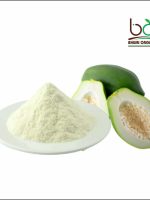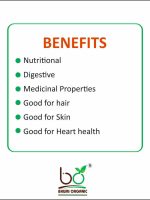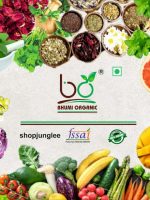 Bhumi Organic Raw Papaya Powder-1 KG
167
people are viewing this right now

Guaranteed safe & secure checkout
Description
Let's see why we should add raw green papaya in our diets –
1. Powerhouse of EnzymesWe all know how good papaya is, we get a lot of this fruit in India. However, raw papaya is picked when it's green, so it retains all its natural enzymes. It has a lot more active enzymes than its ripe version. The two power-packed enzymes of raw papaya include chymopapain and papain. Both enzymes help breakdown protein fats and carbohydrates.
2. Internal CleanserQuite similar to the function of a broom, raw grated papaya cleanses your colon and digestive tract of any old sludge and fecal matter. The fiber acts like an internal broom that helps anyone with chronic constipation, acidity, piles and diarrhea. The enzyme latex present in raw papaya gives your body a sparkling cleanse from the inside.
3. Powerhouse of Nutrients
A study in the British Journal of Nutrition found that raw papaya has exceptional amounts of carotenoids, in fact more than carrots and tomatoes. Also, the carotenoids found in raw papaya are more bio-available to the human body.
4. Great for Problematic Skin
Since fiber in the raw fruit cleans the body internally of any toxins, eating raw papaya daily helps with skin conditions like acne blemishes and pigmentation. Green papaya has dead cell dissolving ability, hence it's the best beauty product in your kitchen.  Make a perfect green juice with raw papaya, to give a boost to your health.
How to Use Raw Papaya
Try using this wonder fruit in its raw form in the following recipes –
1. Green Juice: Blend raw papaya and cucumber in a high speed blender (we blend and not juice as we don't want to miss on the amazing fiber), and add a dash of lemon to enjoy this cooling drink.
2. Raw Papaya Salad: Most of us have tried the green papaya salad, it's just super. Here's a simple recipe – Raw Papaya Salad.
3. Super Poha: This is one of my favorite recipes for any time of the day.  Grate raw papaya, then take a tablespoon of virgin coconut oil in a pan, add mustard seeds and whole red chillies. When the seeds start popping, add few curry leaves, turmeric, chilli powder, grated papaya and, and salt to taste. Stir-fry and add lemon juice and garnish with coriander, grated coconut and roasted peanuts.
4. Papaya Stuffed Parathas: Another yummy way of adding raw papaya in your meal. Just grate papaya and stuff it in your whole-wheat paratha. Enjoy the healthy version of this stuffed vegetable roti for breakfast or kids' tiffin snack.
Enjoy the powerful punch of this protective fruit in its raw form to keep your body clean and beautiful.
Dosing
The appropriate dose of papaya for use as treatment depends on several factors such as the user's age, health, and several other conditions. At this time there is not enough scientific information to determine an appropriate range of doses for papaya. Keep in mind that natural products are not always necessarily safe and dosages can be important. Be sure to follow relevant directions on product labels and consult your pharmacist or physician or other healthcare professional before using.
Shipping cost is based on weight. Just add products to your cart and use the Shipping Calculator to see the shipping price.
We want you to be 100% satisfied with your purchase. Items can be returned or exchanged within 30 days of delivery.
There are no question found.
Quick Comparison
Settings
Bhumi Organic Raw Papaya Powder-1 KG

remove

Bhumi Organic Spinach Powder -1 KG

remove

Bhumi Organic Turmeric Powder -1 KG

remove

Bhumi Organic Mint Powder -1 KG

remove

Bhumi Organic Garlic Powder -1 KG

remove

Bhumi Organic Neem Powder -1 KG

remove

Name
Bhumi Organic Raw Papaya Powder-1 KG

remove

Bhumi Organic Spinach Powder -1 KG

remove

Bhumi Organic Turmeric Powder -1 KG

remove

Bhumi Organic Mint Powder -1 KG

remove

Bhumi Organic Garlic Powder -1 KG

remove

Bhumi Organic Neem Powder -1 KG

remove

Image
SKU
papaya1000
spinach1000
TURMERIC1000
MINT1000
GARLIC1000
NEEM1000
Rating
Price
Stock
Description

Rich in antioxidants and anti-inflammatory compounds
Supports digestive health
Promotes healthy skin and hair
Helps regulate blood sugar levels
Versatile ingredient for cooking, smoothies, and more

Made from 100% pure spinach leaves.
Rich in essential nutrients like iron, vitamins, and minerals.
Adds a natural green color and flavor to food.
Convenient way to include spinach in daily diet.
Ideal for smoothies, soups, and seasoning.

Made from premium, whole turmeric roots
Adds a warm, earthy flavor to dishes
Rich in antioxidants and anti-inflammatory compounds
Supports overall health and well-being
No additives or preservatives.

Made from premium, whole mint leaves
Adds a cool, refreshing flavor to dishes
Rich in antioxidants and vitamins
Can be used in teas, smoothies, and cooking
No additives or preservatives.

Made from premium, whole garlic cloves
Adds a robust, pungent flavor to dishes
Rich in antioxidants and anti-inflammatory compounds
Supports overall health and well-being
No additives or preservatives.

100% natural and pure neem powder
Rich in vitamins, minerals and antioxidants
Supports skin health and fights acne
Helps in maintaining a healthy digestive system
Can be used as a natural pesticide for plants

Weight
N/A
N/A
N/A
N/A
N/A
N/A
Dimensions
N/A
N/A
N/A
N/A
N/A
N/A
Additional information
Add to cart