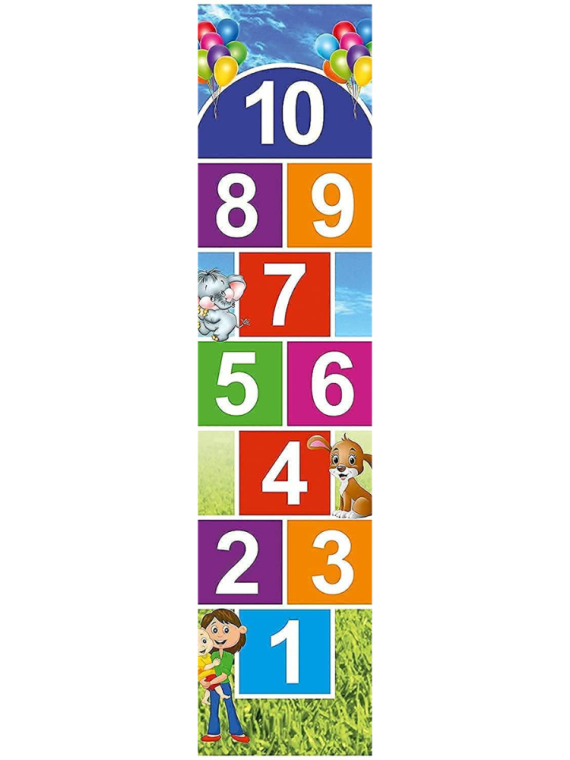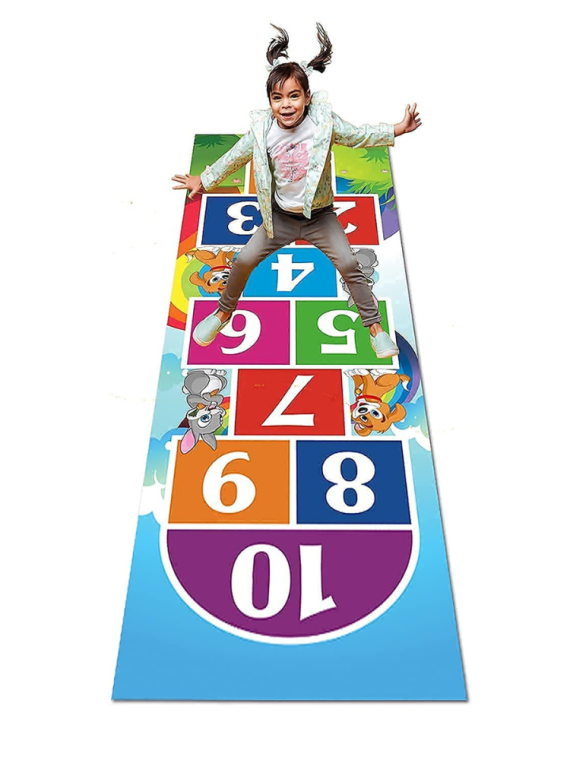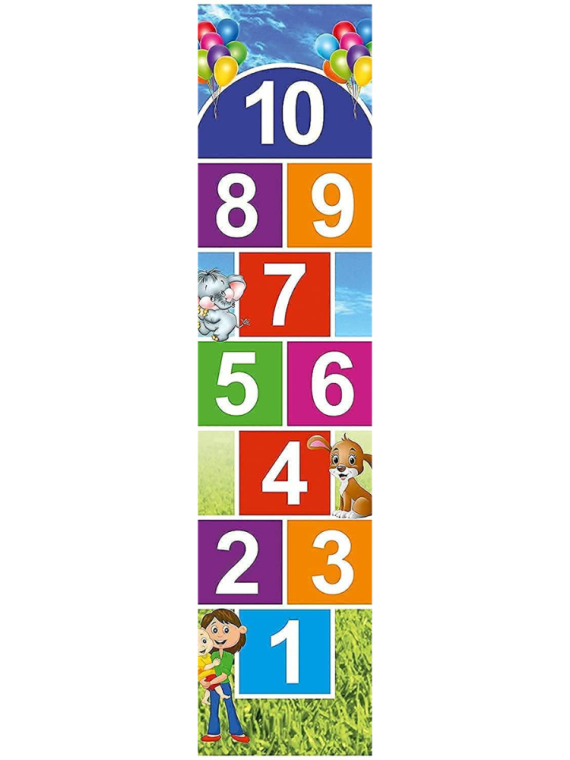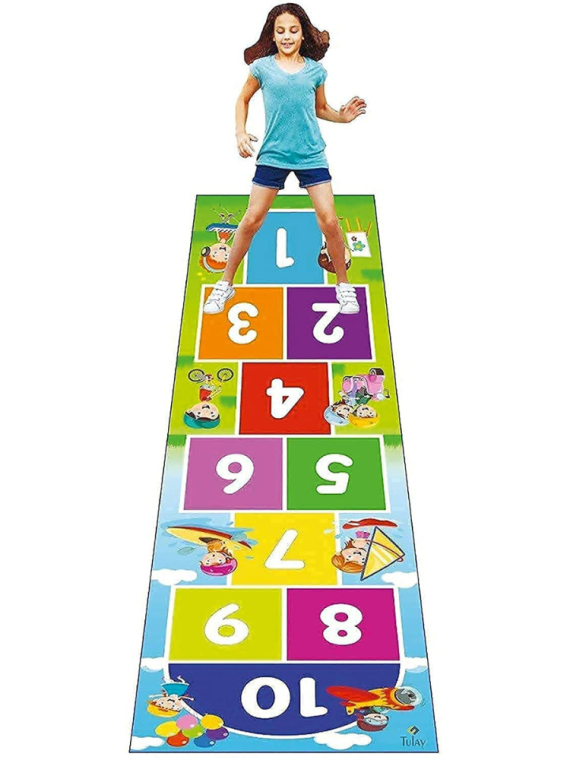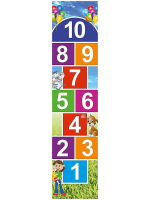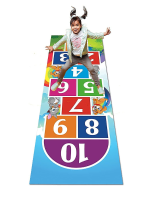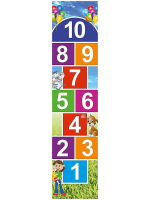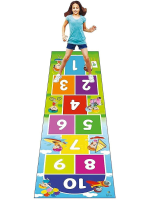 KIDOQUANT Hopscotch Jumbo Play Floor Games (30″ x 96″- PVC Flex Material) (NUMBER)
351
people are viewing this right now

Guaranteed safe & secure checkout
Description
Hopscotch Jumbo Playmat Game for Kids and Adults:
Hopscotch is a Traditional Playground Game for Boys and Girls.
Benefits of Playing Hopscotch:
This game helps children to master body control.
Hopscotch also helps children to manage body rhythm, which is the core of numerous other skills.
Movements involved building body strength, balance, eye/hand coordination and more.
It's a great "social campfire" for young children.
How To Play:
Players take turns jumping through the rows matching their hands and feet to the pictures in the row.
Right hand on right-hand picture, left foot on left foot picture.
Features:
Very unique game for Kids. Package includes Multicoloured Floor mat (Hopscotch mat).
Play the Classic and Educational Hopscotch Hand and Feet Game. The Mat Made of Eco Printing Cloth, HD Color Spray Does Not Fade
Shipping cost is based on weight. Just add products to your cart and use the Shipping Calculator to see the shipping price.
We want you to be 100% satisfied with your purchase. Items can be returned or exchanged within 30 days of delivery.
There are no question found.
Quick Comparison
Settings
KIDOQUANT Hopscotch Jumbo Play Floor Games (30" x 96"- PVC Flex Material) (NUMBER)

remove

KIDOQUANT Hopscotch Jumbo Play Floor Games (36"x 96"- PVC Flex Material) (PAGALA)

remove

KIDOQUANT Hopscotch Jumbo Play Floor Games (30" x 96"- PVC Flex Material) (GAME CARD NUMBER)

remove

KIDOQUANT Hopscotch Jumbo Play Floor Games (36" x 96"- PVC Flex Material) (NEW NUMBER)

remove

Name
KIDOQUANT Hopscotch Jumbo Play Floor Games (30" x 96"- PVC Flex Material) (NUMBER)

remove

KIDOQUANT Hopscotch Jumbo Play Floor Games (36"x 96"- PVC Flex Material) (PAGALA)

remove

KIDOQUANT Hopscotch Jumbo Play Floor Games (30" x 96"- PVC Flex Material) (GAME CARD NUMBER)

remove

KIDOQUANT Hopscotch Jumbo Play Floor Games (36" x 96"- PVC Flex Material) (NEW NUMBER)

remove

Image
SKU
NUB1
PAGALA1
NUB3
NUB2
Rating
Price
Stock
Description

DURABLE AND COLORFUL: Made of e-co printing cloth, HD color spray does not fade. The hopscotch can be wiped with a cloth, easy to clean, and soil- and stain-resistant. This carpet can stand up to as much hopping as kids want to do.

INDOOR OR OUTDOOR USE: Whether it's a bright and sunny day in July or a cold and snowy day in February, the game mat board is ready to play outside or inside. It helps a kid's development thinking and body sport. For children in kindergarten, cultivate sports awareness and improve physical function.

A NICE GIFT FOR TODDLERS: Suit for children above 4 to use. Encourages baby's creativity and fine motor skill development. Which brings challenging and endless joy with kids. It's a nice present for Christmas and birthday.

EDUCATIONAL AND PLAYFUL : Let your child have long lasting fun, enjoyment. It's an amazing balancing game for girls and boys.

MATERIAL : PVC Flex Banner

DURABLE AND COLORFUL: Made of e-co printing cloth, HD color spray does not fade. The hopscotch can be wiped with a cloth, easy to clean, and soil- and stain-resistant. This carpet can stand up to as much hopping as kids want to do.

INDOOR OR OUTDOOR USE: Whether it's a bright and sunny day in July or a cold and snowy day in February, the game mat board is ready to play outside or inside. It helps a kid's development thinking and body sport. For children in kindergarten, cultivate sports awareness and improve physical function.

A NICE GIFT FOR TODDLERS: Suit for children above 4 to use. Encourages baby's creativity and fine motor skill development. Which brings challenging and endless joy with kids. It's a nice present for Christmas and birthday.

EDUCATIONAL AND PLAYFUL : Let your child have long lasting fun, enjoyment. It's an amazing balancing game for girls and boys.

MATERIAL : PVC Flex Banner

DURABLE AND COLORFUL: Made of e-co printing cloth, HD color spray does not fade. The hopscotch can be wiped with a cloth, easy to clean, and soil- and stain-resistant. This carpet can stand up to as much hopping as kids want to do.

INDOOR OR OUTDOOR USE: Whether it's a bright and sunny day in July or a cold and snowy day in February, the game mat board is ready to play outside or inside. It helps a kid's development thinking and body sport. For children in kindergarten, cultivate sports awareness and improve physical function.

A NICE GIFT FOR TODDLERS: Suit for children above 4 to use. Encourages baby's creativity and fine motor skill development. Which brings challenging and endless joy with kids. It's a nice present for Christmas and birthday.

EDUCATIONAL AND PLAYFUL : Let your child have long lasting fun, enjoyment. It's an amazing balancing game for girls and boys.

MATERIAL : PVC Flex Banner

DURABLE AND COLORFUL: Made of e-co printing cloth, HD color spray does not fade. The hopscotch can be wiped with a cloth, easy to clean, and soil- and stain-resistant. This carpet can stand up to as much hopping as kids want to do.

INDOOR OR OUTDOOR USE: Whether it's a bright and sunny day in July or a cold and snowy day in February, the game mat board is ready to play outside or inside. It helps a kid's development thinking and body sport. For children in kindergarten, cultivate sports awareness and improve physical function.

A NICE GIFT FOR TODDLERS: Suit for children above 4 to use. Encourages baby's creativity and fine motor skill development. Which brings challenging and endless joy with kids. It's a nice present for Christmas and birthday.

EDUCATIONAL AND PLAYFUL : Let your child have long lasting fun, enjoyment. It's an amazing balancing game for girls and boys.

MATERIAL : PVC Flex Banner

Weight
N/A
N/A
N/A
N/A
Dimensions
N/A
N/A
N/A
N/A
Additional information
Add to cart