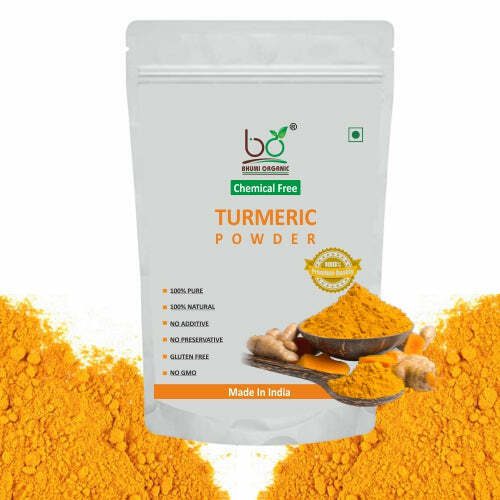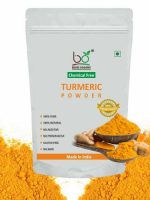 Bhumi Organic Turmeric Powder -1 KG
405
people are viewing this right now

Guaranteed safe & secure checkout
Description
Single origin turmeric ,'salem' variety
Description
Turmeric powder made from fresh turmeric rhizomes which are boiled and dried.
Ingredients
Salem turmeric
Turmeric is rich in a compound called curcumin
Curcumin has high antioxidant, antiseptic and anti-inflammatory properties
It is highly beneficial for strengthening the immune system
A healthy ingredient to use for cooking as well as for skin applications
Used in Ayurveda
Usage info
Turmeric powder is a common ingredient in most Indian recipes. Turmeric with milk and crushed pepper is a healthy drink to have during winter
Lately a lot of bakers have started using turmeric powder to flavour breads and cakes .It is an ingredient much loved for the warm yellow tones it adds to a dish.
Herbal teas with warm turmeric infusions are a great way to start the day and helps in cleansing the system and in boosting energy.
The golden spice has attracted global acclaim for its wellness properties.
Homemade turmeric scrubs for the face and arms are equally popular.
Specific storage info
Store in an airtight container in a cool, dry place.
Info
Grown traditionally and sourced from a single farmer. This product contains no artificial colouring , preservatives or additives. It is 100% natural.
FAQs
Question 1 
What is 'Salem' Turmeric?
Salem is a place in Tamil Nadu, India, which is famous for ages, for the turmeric it produces. This turmeric is regarded of great quality and colour and also higher in curcumin content as compared to some other varieties of turmeric.
Question 2 
Can we use this turmeric powder as part of the skincare regime?
Yes, it can be used for skin application. Unless you have a history or known allergy to turmeric powder.
Question 3
Is it Gluten free?
Yes, it is Gluten free.
Question 4
What is the shelf life?
It is best before 12 months from the date of packaging.
Shipping cost is based on weight. Just add products to your cart and use the Shipping Calculator to see the shipping price.
We want you to be 100% satisfied with your purchase. Items can be returned or exchanged within 30 days of delivery.
There are no question found.
Quick Comparison
Settings
Bhumi Organic Turmeric Powder -1 KG

remove

Bhumi Organic Mint Powder -1 KG

remove

Bhumi Organic Ajwain Honey -1 KG

remove

Bhumi Organic Eucalyptus Honey -1 KG

remove

Bhumi Organic Moringa Tablets - (PACK OF 2)

remove

Bhumi Organic Natural Multiflora Raw Honey -1 KG

remove

Name
Bhumi Organic Turmeric Powder -1 KG

remove

Bhumi Organic Mint Powder -1 KG

remove

Bhumi Organic Ajwain Honey -1 KG

remove

Bhumi Organic Eucalyptus Honey -1 KG

remove

Bhumi Organic Moringa Tablets - (PACK OF 2)

remove

Bhumi Organic Natural Multiflora Raw Honey -1 KG

remove

Image
SKU
TURMERIC1000
MINT1000
AJWAIN1000
EUC1000
MORTAB60
RH1000
Rating
Price
Stock

Out of stock

Out of stock

Description

Made from premium, whole turmeric roots
Adds a warm, earthy flavor to dishes
Rich in antioxidants and anti-inflammatory compounds
Supports overall health and well-being
No additives or preservatives.

Made from premium, whole mint leaves
Adds a cool, refreshing flavor to dishes
Rich in antioxidants and vitamins
Can be used in teas, smoothies, and cooking
No additives or preservatives.

A unique blend of pure honey and ajwain seeds for added health benefits.
Helps improve digestion and reduces bloating and gas.
Antioxidant-rich and helps boost immunity.
Enhances the taste of foods and drinks with its unique flavor profile.
Safe for consumption by adults and children as a sweet and healthy alternative to sugar.

100% pure and natural honey sourced from Eucalyptus flowers
Contains essential minerals, vitamins and antioxidants
Helps boost immunity and promote respiratory health
Has a refreshing, medicinal taste that can be added to tea or used in cooking
Comes in a convenient, easy to use jar with a tight-fitting lid to maintain freshness

Rich in antioxidants and anti-inflammatory compounds
Supports healthy immune system function
Promotes healthy digestion and promotes weight management
Supports healthy skin, hair and nail growth
Helps to regulate blood sugar levels and maintain healthy blood pressure levels

Made from a blend of multiple types of flowers.
100% natural and organic, free from additives and preservatives.
Rich in antioxidants, vitamins and minerals.
A natural alternative to processed sugar.
Perfect for sweetening drinks, cooking, or as a skincare ingredient.

Weight
N/A
N/A
N/A
N/A
N/A
N/A
Dimensions
N/A
N/A
N/A
N/A
N/A
N/A
Additional information
Add to cart