Black Garlic: The Superfood That Lowers Cholesterol and Reduces the Risk of Heart Disease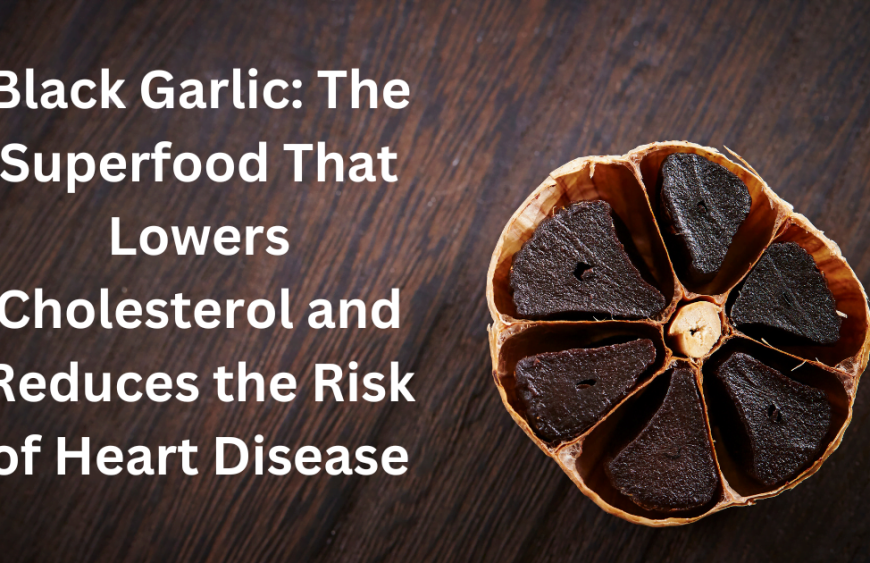 Black garlic is a unique type of fermented garlic that has gained popularity in recent years for its wide range of health benefits. One of its most notable benefits is its ability to lower cholesterol levels and reduce the risk of heart disease.
Garlic is already known for its anti-inflammatory and antioxidant properties, but black garlic takes it to the next level. The fermentation process that creates black garlic increases the levels of certain compounds, such as S-allyl cysteine and polyphenols, which have been shown to have a positive impact on heart health.
One study found that consuming black garlic for eight weeks led to significant reductions in total cholesterol, LDL cholesterol (the "bad" cholesterol), and triglycerides in individuals with high cholesterol. Other research has also found that black garlic can improve the function of the lining of the blood vessels, which can help to prevent heart disease.
In addition to its cholesterol-lowering properties, black garlic has also been shown to have other health benefits. For example, it has been found to have anti-cancer properties, boost the immune system, and even improve memory and cognitive function.
If you're looking for a tasty and easy way to improve your heart health, black garlic is a great option. You can find it at many health food stores and online retailers, and it can be used in a variety of dishes, from soups and stews to marinades and dressings.
It's important to note that black garlic should be consumed in moderation, as with any food. It's always a good idea to talk to your doctor or a registered dietitian before making any significant changes to your diet.
It's also worth mentioning that black garlic has a unique taste and texture compared to regular garlic. The fermentation process gives it a sweeter, milder flavor, and a softer, chewier texture. This makes it a great option for those who may not enjoy the strong, pungent flavor of raw garlic.
Black garlic can be used in a variety of ways in the kitchen. It's often used as a seasoning for meats and vegetables, or added to soups and stews for a boost of flavor. It can also be used to make sauces and marinades, or simply eaten on its own as a snack.
Another great way to incorporate black garlic into your diet is by taking it in supplement form. You can find black garlic supplements in the form of capsules or tablets at many health food stores. These can be a convenient option for those who want to enjoy the benefits of black garlic without having to incorporate it into their meals.
In addition to its health benefits, black garlic is also a sustainable food choice. The fermentation process used to create black garlic is a natural one that doesn't require any additional chemicals or preservatives. And, it can be made from local, organic garlic, supporting local farmers and reducing the carbon footprint of imported garlic.
Overall, black garlic is a versatile and nutritious superfood that can be easily incorporated into any diet. Its ability to lower cholesterol levels and reduce the risk of heart disease, along with its other health benefits, make it a great choice for anyone looking to improve their overall health and well-being.