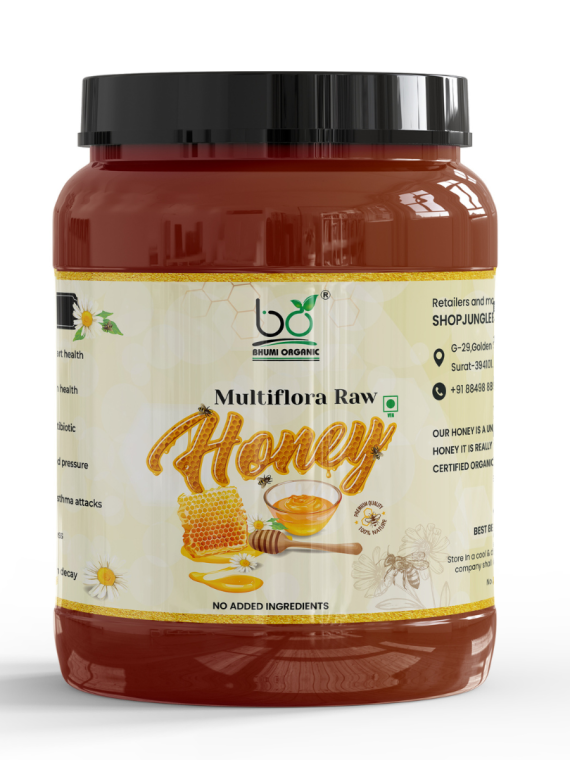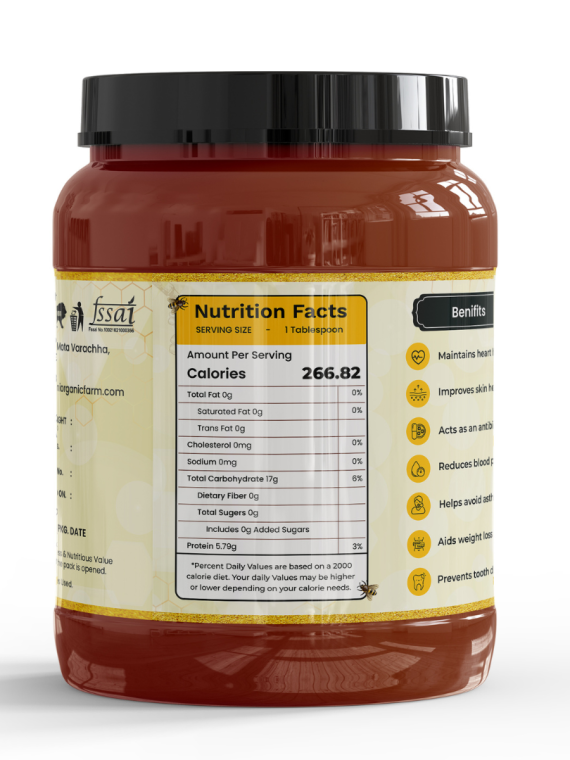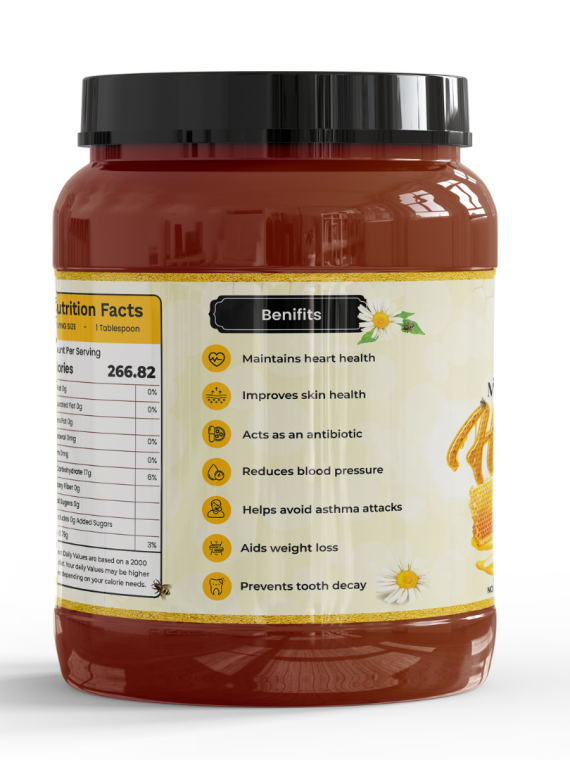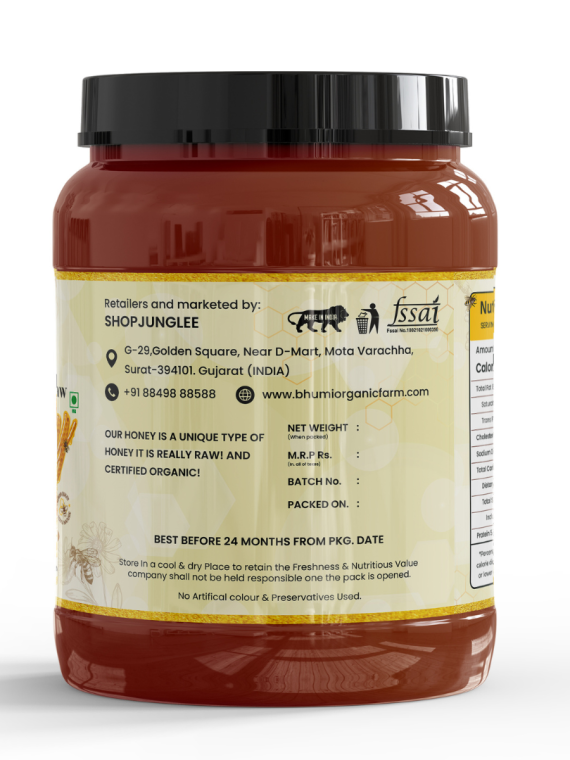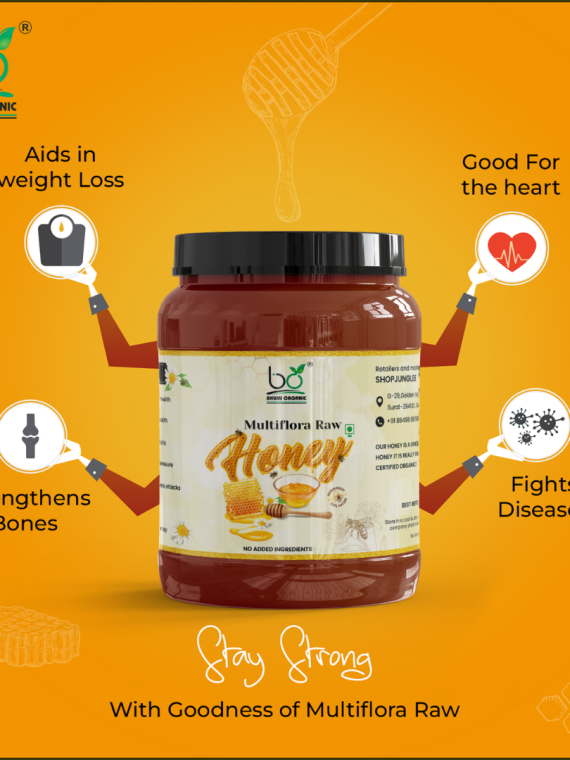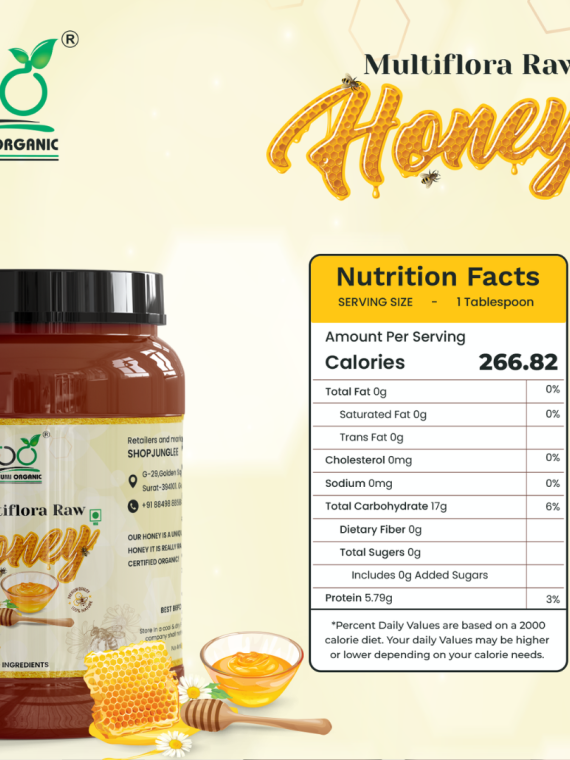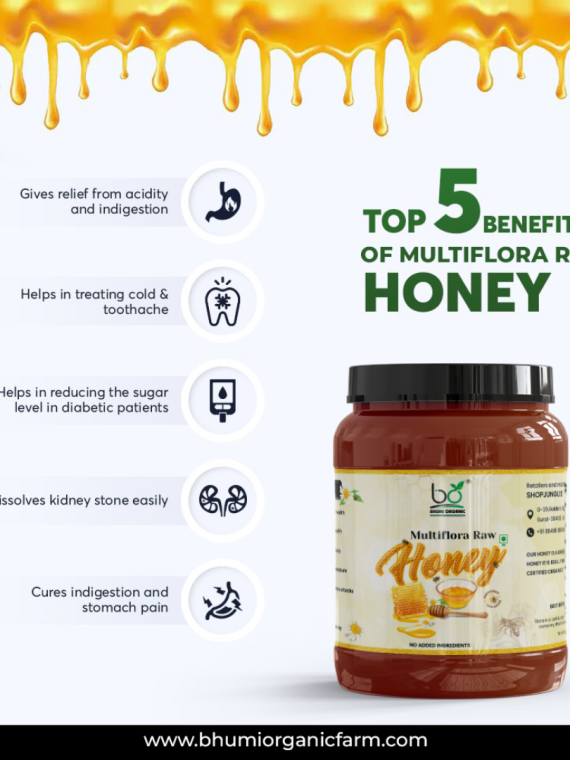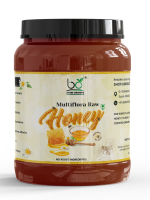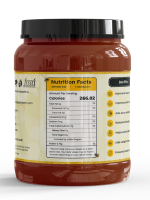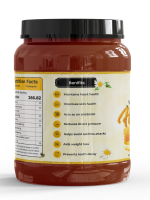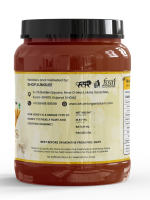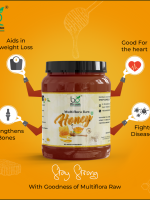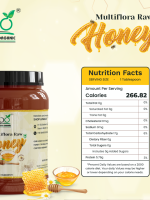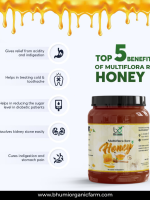 Bhumi Organic Natural Multiflora Raw Honey -1 KG
430
people are viewing this right now

Guaranteed safe & secure checkout
Description
Benefit of Natural Multiflora Raw Honey
Antioxidant Properties: Raw honey contains antioxidants that help protect against cell damage and oxidative stress.
Boosts Immunity: Raw honey contains antimicrobial properties that can help boost the immune system.
Heals Wounds: Raw honey is a natural antiseptic and can be used to treat wounds, burns, and infections.
Aids Digestion: Raw honey can help relieve digestive issues such as acid reflux and bloating.
Energizing: Raw honey is a natural energy booster and can help improve athletic performance.
Promotes Sleep: Raw honey contains natural sugars that can help improve sleep quality.
Anti-Inflammatory: Raw honey has anti-inflammatory properties that can help reduce pain and swelling.
Supports Healthy Weight Management: Raw honey can help regulate blood sugar levels and reduce cravings, which can support healthy weight management.
Cough Suppressant: Raw honey has been shown to be effective in reducing coughing and improving sleep in children and adults with upper respiratory tract infections.
Reduces Allergies: Raw honey contains small amounts of pollens from the flowers where the bees collect nectar, which can help reduce allergies when consumed regularly.
Shipping cost is based on weight. Just add products to your cart and use the Shipping Calculator to see the shipping price.
We want you to be 100% satisfied with your purchase. Items can be returned or exchanged within 30 days of delivery.
There are no question found.
Quick Comparison
Settings
Bhumi Organic Natural Multiflora Raw Honey -1 KG

remove

Bhumi Organic Turmeric Powder -1 KG

remove

Bhumi Organic Eucalyptus Honey -1 KG

remove

Bhumi Organic Black Garlic Infused Honey-1 KG

remove

Bhumi Organic Fennel Honey -1 KG

remove

Bhumi Organic Neem Powder -1 KG

remove

Name
Bhumi Organic Natural Multiflora Raw Honey -1 KG

remove

Bhumi Organic Turmeric Powder -1 KG

remove

Bhumi Organic Eucalyptus Honey -1 KG

remove

Bhumi Organic Black Garlic Infused Honey-1 KG

remove

Bhumi Organic Fennel Honey -1 KG

remove

Bhumi Organic Neem Powder -1 KG

remove

Image
SKU
RH1000
TURMERIC1000
EUC1000
BGHONEY1000
FENNELH1000
NEEM1000
Rating
Price
Stock

Out of stock

Out of stock

Description

Made from a blend of multiple types of flowers.
100% natural and organic, free from additives and preservatives.
Rich in antioxidants, vitamins and minerals.
A natural alternative to processed sugar.
Perfect for sweetening drinks, cooking, or as a skincare ingredient.

Made from premium, whole turmeric roots
Adds a warm, earthy flavor to dishes
Rich in antioxidants and anti-inflammatory compounds
Supports overall health and well-being
No additives or preservatives.

100% pure and natural honey sourced from Eucalyptus flowers
Contains essential minerals, vitamins and antioxidants
Helps boost immunity and promote respiratory health
Has a refreshing, medicinal taste that can be added to tea or used in cooking
Comes in a convenient, easy to use jar with a tight-fitting lid to maintain freshness

Made with premium quality black garlic and honey
A unique blend of sweet and savory flavors
High in antioxidants and has anti-inflammatory properties
Can be used as a natural sweetener in various dishes and drinks
Ideal for maintaining a healthy immune system and promoting overall well-being.

Made from premium honey and pure fennel essential oil
Adds a sweet, licorice-like flavor to dishes
Supports digestive health
Can be used as a natural sweetener
No additives or preservatives.

100% natural and pure neem powder
Rich in vitamins, minerals and antioxidants
Supports skin health and fights acne
Helps in maintaining a healthy digestive system
Can be used as a natural pesticide for plants

Weight
N/A
N/A
N/A
N/A
N/A
N/A
Dimensions
N/A
N/A
N/A
N/A
N/A
N/A
Additional information
Add to cart