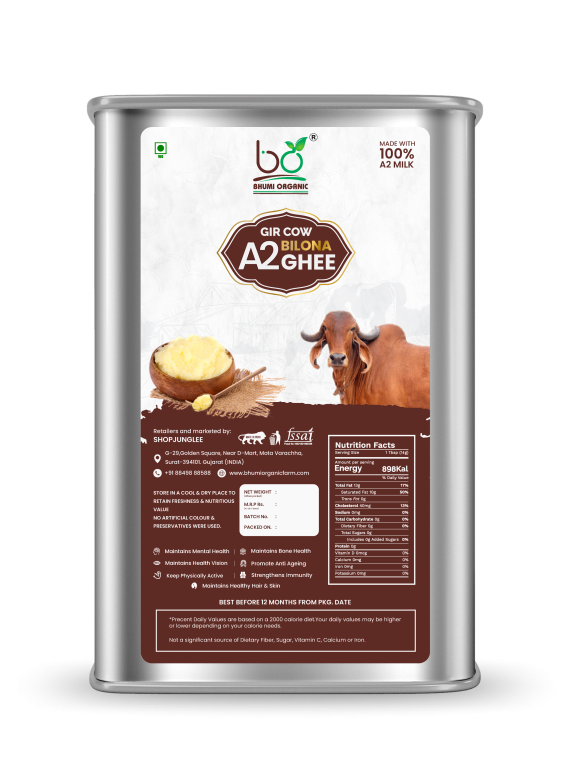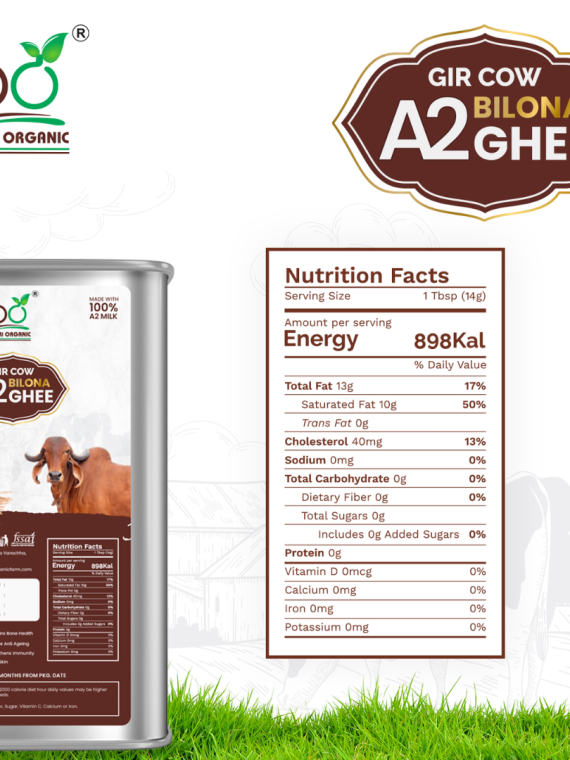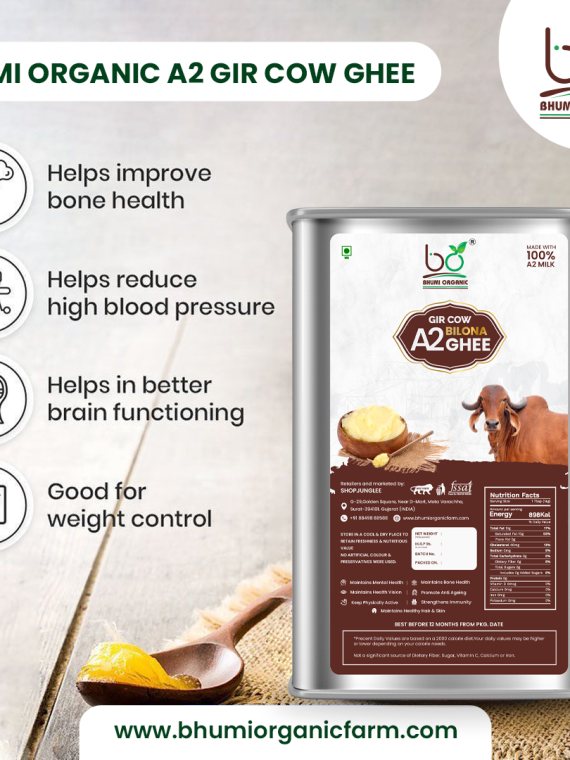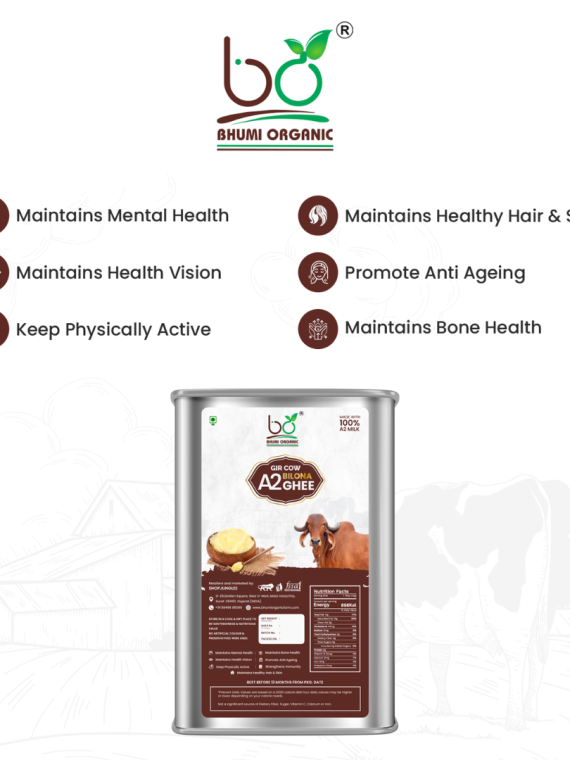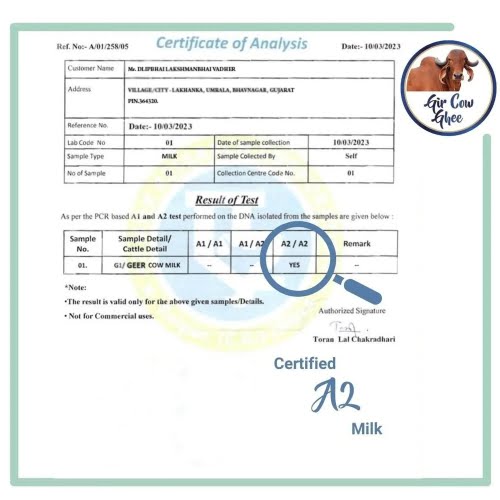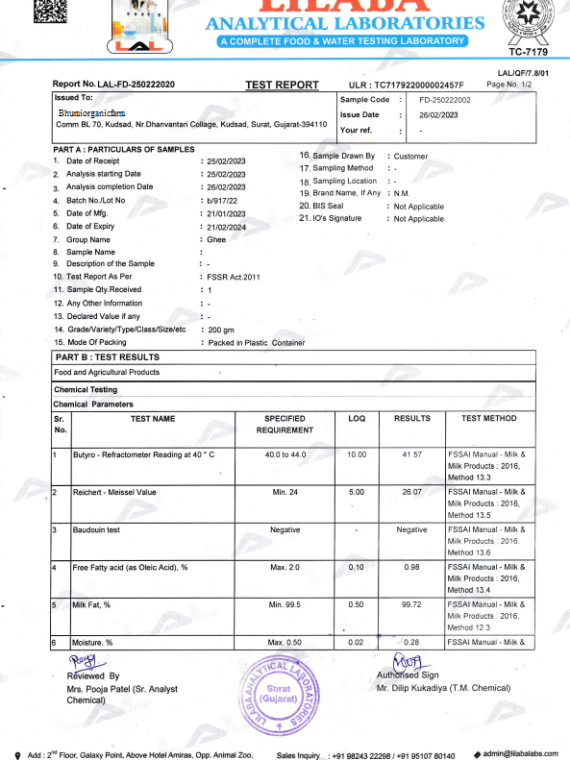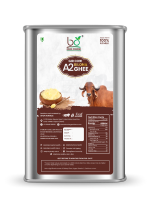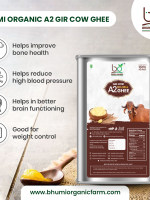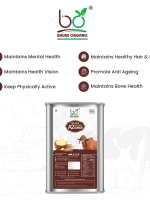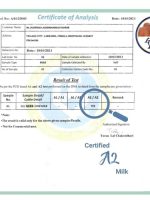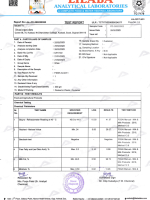 Vedic Ghee Premium A2 Gir Cow Cultured Ghee from Bhumi Organic Farm | Vedic Bilona Two Way Hand Churned |(TIN PACK)
314
people are viewing this right now

Guaranteed safe & secure checkout
Description
Bhumi Organic A2 Gir Cow Bilona Ghee has several health benefits, including:
Boosts Immunity: The ghee contains butyric acid, which is known to boost the immune system.

Promotes Digestive Health: It aids in digestion by stimulating the secretion of digestive enzymes and reducing inflammation in the gut.

Enhances Brain Function: The essential fatty acids present in the ghee improve brain function, memory, and cognitive performance.

Improves Heart Health: The ghee is rich in conjugated linoleic acid (CLA), which reduces the risk of heart disease and improves blood lipid profile.

Supports Weight Loss: The ghee helps in reducing belly fat and improving metabolism, thereby aiding in weight loss.

Nourishes Skin and Hair: It contains vitamin E, which is beneficial for skin and hair health, and also acts as a natural moisturiser
Overall, Bhumi Organic A2 Gir Cow Bilona Ghee is a healthy and nutritious option that provides various health benefits when consumed in moderation.
Shipping cost is based on weight. Just add products to your cart and use the Shipping Calculator to see the shipping price.
We want you to be 100% satisfied with your purchase. Items can be returned or exchanged within 30 days of delivery.
There are no question found.
Quick Comparison
Settings
Vedic Ghee Premium A2 Gir Cow Cultured Ghee from Bhumi Organic Farm | Vedic Bilona Two Way Hand Churned |(TIN PACK)

remove

Vedic Ghee Premium A2 Desi Cow Full Moon Cultured Ghee from Bhumi Organic Farm | Vedic Bilona Two Way Hand Churned | (1L)

remove

Vedic Ghee Premium A2 Gir Cow Cultured Ghee from Bhumi Organic Farm | Vedic Bilona Two Way Hand Churned

remove

Vedic Ghee Premium A2 Gir Cow Full Moon Cultured Ghee from Bhumi Organic Farm | Vedic Bilona Two Way Hand Churned (TIN PACK)

remove

Vedic Ghee Premium A2 Desi Cow Full Moon Cultured Ghee from Bhumi Organic Farm | Vedic Bilona Two Way Hand Churned | (TIN PACK)

remove

Vedic Ghee Premium A2 Gir Cow Full Moon Cultured Ghee from Bhumi Organic Farm | Vedic Bilona Two Way Hand Churned

remove

Name
Vedic Ghee Premium A2 Gir Cow Cultured Ghee from Bhumi Organic Farm | Vedic Bilona Two Way Hand Churned |(TIN PACK)

remove

Vedic Ghee Premium A2 Desi Cow Full Moon Cultured Ghee from Bhumi Organic Farm | Vedic Bilona Two Way Hand Churned | (1L)

remove

Vedic Ghee Premium A2 Gir Cow Cultured Ghee from Bhumi Organic Farm | Vedic Bilona Two Way Hand Churned

remove

Vedic Ghee Premium A2 Gir Cow Full Moon Cultured Ghee from Bhumi Organic Farm | Vedic Bilona Two Way Hand Churned (TIN PACK)

remove

Vedic Ghee Premium A2 Desi Cow Full Moon Cultured Ghee from Bhumi Organic Farm | Vedic Bilona Two Way Hand Churned | (TIN PACK)

remove

Vedic Ghee Premium A2 Gir Cow Full Moon Cultured Ghee from Bhumi Organic Farm | Vedic Bilona Two Way Hand Churned

remove

Image
SKU
girghee2000
FMDESI1000
girghee
MOONGHEE2000
FMDESI2000
Rating
Price
Stock
Description

Made from the milk of A2 Gir cows using the traditional bilona method, ensuring that the ghee is pure and natural.

Contains no preservatives, chemicals, or additives, making it a healthier and safer alternative to regular ghee.

Retains all the natural nutrients of the milk, providing various health benefits.

Rich in flavour and aroma, making it a versatile ingredient for cooking and baking.

Contains essential fatty acids like omega-3 and omega-6, which are beneficial for heart health, brain function, and overall well-being.

Lactose-free, making it a suitable option for people who are lactose intolerant.

Comes in premium quality packaging that preserves the ghee's freshness and flavour.

Produced by Bhumi Organic, a trusted and renowned brand for organic and natural products.

Bhumi Organic Full Moon Cultured A2 Desi Cow Bilona Ghee is made from the milk of Desi cows.
The ghee is made by fermenting cream under the full moon light. This process enhances the flavor and nutritional value of the ghee.
The ghee is free from any preservatives, chemicals, or additives, making it a pure and natural product.
Bhumi Organic Full Moon Cultured A2 Desi Cow Bilona Ghee is rich in essential fatty acids, vitamins and probiotics.
The ghee is considered to be beneficial for overall health and well-being, and it is also known to improve digestion, boost immunity, and enhance the skin and hair.

Made from the milk of A2 Gir cows using the traditional bilona method, ensuring that the ghee is pure and natural.

Contains no preservatives, chemicals, or additives, making it a healthier and safer alternative to regular ghee.

Retains all the natural nutrients of the milk, providing various health benefits.

Rich in flavour and aroma, making it a versatile ingredient for cooking and baking.

Contains essential fatty acids like omega-3 and omega-6, which are beneficial for heart health, brain function, and overall well-being.

Lactose-free, making it a suitable option for people who are lactose intolerant.

Comes in premium quality packaging that preserves the ghee's freshness and flavour.

Produced by Bhumi Organic, a trusted and renowned brand for organic and natural products.

Bhumi Organic Full Moon Cultured A2 Desi Gir Cow Bilona Ghee is made from the milk of Desi Gir cows, which are indigenous breeds of cattle that are found in different parts of India.
The ghee is made by fermenting cream under the full moon light. This process enhances the flavor and nutritional value of the ghee.
The ghee is free from any preservatives, chemicals, or additives, making it a pure and natural product.
Bhumi Organic Full Moon Cultured A2 Desi Gir Cow Bilona Ghee is rich in essential fatty acids, vitamins and probiotics.
The ghee is considered to be beneficial for overall health and well-being, and it is also known to improve digestion, boost immunity, and enhance the skin and hair.

Bhumi Organic Full Moon Cultured A2 Desi Cow Bilona Ghee is made from the milk of Desi cows.
The ghee is made by fermenting cream under the full moon light. This process enhances the flavor and nutritional value of the ghee.
The ghee is free from any preservatives, chemicals, or additives, making it a pure and natural product.
Bhumi Organic Full Moon Cultured A2 Desi Cow Bilona Ghee is rich in essential fatty acids, vitamins and probiotics.
The ghee is considered to be beneficial for overall health and well-being, and it is also known to improve digestion, boost immunity, and enhance the skin and hair.

Bhumi Organic Full Moon Cultured A2 Desi Gir Cow Bilona Ghee is made from the milk of Desi Gir cows, which are indigenous breeds of cattle that are found in different parts of India.
The ghee is made by fermenting cream under the full moon light. This process enhances the flavor and nutritional value of the ghee.
The ghee is free from any preservatives, chemicals, or additives, making it a pure and natural product.
Bhumi Organic Full Moon Cultured A2 Desi Gir Cow Bilona Ghee is rich in essential fatty acids, vitamins and probiotics.
The ghee is considered to be beneficial for overall health and well-being, and it is also known to improve digestion, boost immunity, and enhance the skin and hair.

Weight
N/A
N/A
N/A
N/A
N/A
N/A
Dimensions
N/A
N/A
N/A
N/A
N/A
N/A
Additional information

| | |
| --- | --- |
| Weight | N/A |
| Size | 15 KG, 2 LTR, 5 LTR |

| | |
| --- | --- |
| Weight | N/A |
| Size | 1000 ML, 250 ML, 500 ML |

| | |
| --- | --- |
| Weight | N/A |
| Size | 15 KG, 2 LTR, 5 LTR |

| | |
| --- | --- |
| Weight | N/A |
| Size | 15 KG, 2 LTR, 5 LTR |

| | |
| --- | --- |
| Weight | N/A |
| Size | 1000 ML, 250 ML, 500 ML |

Add to cart