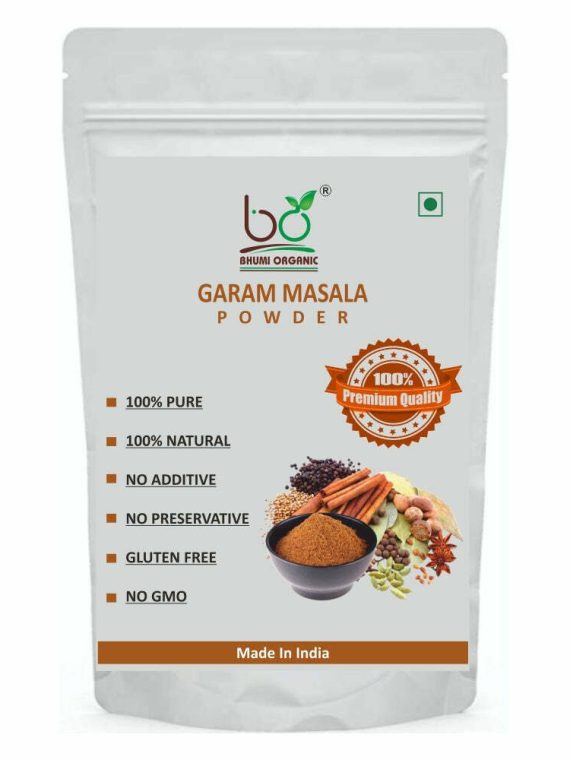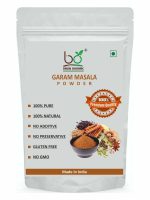 Bhumi Organic Garam Masala Powder-1 KG
263
people are viewing this right now

Guaranteed safe & secure checkout
Description
[vc_row][vc_column][vc_column_text]Indian cooking consolidates an assortment of flavors. The fixings might be something very similar however it is the extent of every fixing that makes each masala taste unique. Purchase Bhumiorganic Garam Masala online to encounter the customary taste of the quintessential fixings in most Indian treats.
Toasted flawlessly, every element of Bhumiorganic Garam Masala, is sourced from the best places. These are then mixed to a blend that is an equilibrium of taste and surface. The somewhat coarse consistency adds more flavor to your every day cooking styles as every one of the flavors discharge their oils.
This masala is known to start from the Northern area where it was utilized widely in Mughal food. Because of the cool environment, this masala made it to most dishes because of the glow that the flavors advertised. It was then spread the nation over, even to specific pieces of Iran. Our clients would now be able to shop Bhumiorganic Garam Masala across the globe.[/vc_column_text][/vc_column][/vc_row][vc_row][vc_column width="1/2″][vc_video link="https://youtu.be/dCdmCErJWvI"][/vc_column][vc_column width="1/2″][/vc_column][/vc_row][vc_row][vc_column][vc_column_text]
Uses
Bhumiorganic Natural Premium Masala is a decent blend of flavors that improves the flavor of plans from all pieces of India. With its provincial warmth, marginally sweet notes of cinnamon, aroma and the dash of warmth, this is one item that should be a piece of your wash room.
While the vast majority who shop Bhumiorganic Unique Garam Masala online favor adding it to the dishes during the cooking cycle, we prescribe you to add it towards the end. Adding only a teaspoon of Bhumiorganic Garam Masala to your sabjis, daal or different rarities whenever it is cooked will help bring better smell and more grounded taste. It is additionally best not to blend such a large number of different flavors as our masala consolidates every one of the essential and few additional fixings
[/vc_column_text][/vc_column][/vc_row]
Shipping cost is based on weight. Just add products to your cart and use the Shipping Calculator to see the shipping price.
We want you to be 100% satisfied with your purchase. Items can be returned or exchanged within 30 days of delivery.
There are no question found.
Quick Comparison
Settings
Bhumi Organic Garam Masala Powder-1 KG

remove

Bhumi Organic Tomato Powder -1 KG

remove

Bhumi Organic Garlic Powder -1 KG

remove

Vedic Ghee Premium A2 Gir Cow Full Moon Cultured Ghee from Bhumi Organic Farm | Vedic Bilona Two Way Hand Churned (TIN PACK)

remove

Vedic Ghee Premium A2 Gir Cow Full Moon Cultured Ghee from Bhumi Organic Farm | Vedic Bilona Two Way Hand Churned

remove

Bhumi Organic White Onion Powder -1 KG

remove

Name
Bhumi Organic Garam Masala Powder-1 KG

remove

Bhumi Organic Tomato Powder -1 KG

remove

Bhumi Organic Garlic Powder -1 KG

remove

Vedic Ghee Premium A2 Gir Cow Full Moon Cultured Ghee from Bhumi Organic Farm | Vedic Bilona Two Way Hand Churned (TIN PACK)

remove

Vedic Ghee Premium A2 Gir Cow Full Moon Cultured Ghee from Bhumi Organic Farm | Vedic Bilona Two Way Hand Churned

remove

Bhumi Organic White Onion Powder -1 KG

remove

Image
SKU
GARMASALA1000
tomato1000
GARLIC1000
MOONGHEE2000
whoni1000
Rating
Price
Stock
Description

Made from a blend of carefully selected, high-quality spices
Adds depth and warmth to dishes with a traditional Indian flavor
Perfect for curries, stews, soups, and more
No added preservatives or artificial ingredients
Experience the rich aroma and taste of authentic Garam Masala

Rich in Vitamin C, K and B complex.
Contains powerful antioxidants, such as lycopene.
Can be used to enhance flavor and color in cooking.
Convenient alternative to fresh tomatoes.
Can be stored for longer shelf life.

Made from premium, whole garlic cloves
Adds a robust, pungent flavor to dishes
Rich in antioxidants and anti-inflammatory compounds
Supports overall health and well-being
No additives or preservatives.

Bhumi Organic Full Moon Cultured A2 Desi Gir Cow Bilona Ghee is made from the milk of Desi Gir cows, which are indigenous breeds of cattle that are found in different parts of India.
The ghee is made by fermenting cream under the full moon light. This process enhances the flavor and nutritional value of the ghee.
The ghee is free from any preservatives, chemicals, or additives, making it a pure and natural product.
Bhumi Organic Full Moon Cultured A2 Desi Gir Cow Bilona Ghee is rich in essential fatty acids, vitamins and probiotics.
The ghee is considered to be beneficial for overall health and well-being, and it is also known to improve digestion, boost immunity, and enhance the skin and hair.

Bhumi Organic Full Moon Cultured A2 Desi Gir Cow Bilona Ghee is made from the milk of Desi Gir cows, which are indigenous breeds of cattle that are found in different parts of India.
The ghee is made by fermenting cream under the full moon light. This process enhances the flavor and nutritional value of the ghee.
The ghee is free from any preservatives, chemicals, or additives, making it a pure and natural product.
Bhumi Organic Full Moon Cultured A2 Desi Gir Cow Bilona Ghee is rich in essential fatty acids, vitamins and probiotics.
The ghee is considered to be beneficial for overall health and well-being, and it is also known to improve digestion, boost immunity, and enhance the skin and hair.

Made from 100% pure white onion
Rich in flavor and aroma
Adds taste and nutrition to dishes
Long shelf life and easy to store
Versatile ingredient for cooking, seasoning and garnishing.

Weight
N/A
N/A
N/A
N/A
N/A
N/A
Dimensions
N/A
N/A
N/A
N/A
N/A
N/A
Additional information

| | |
| --- | --- |
| Weight | N/A |
| Size | 15 KG, 2 LTR, 5 LTR |

| | |
| --- | --- |
| Weight | N/A |
| Size | 1000 ML, 250 ML, 500 ML |

Add to cart