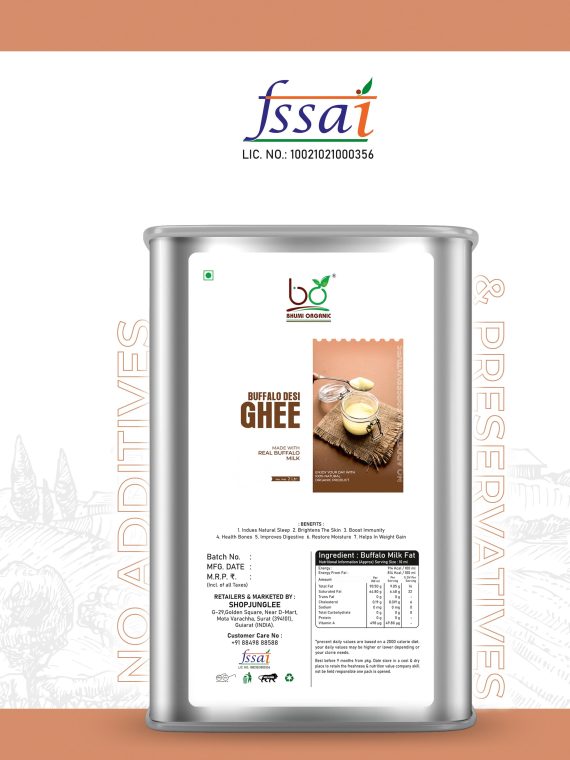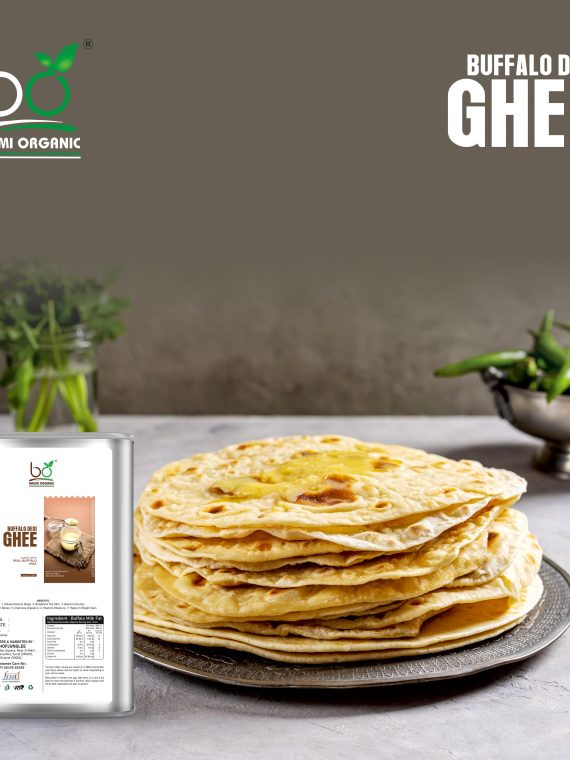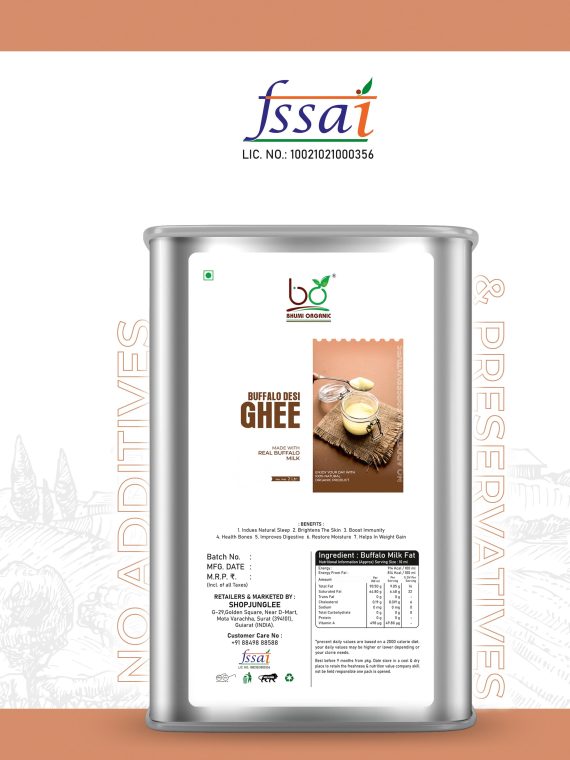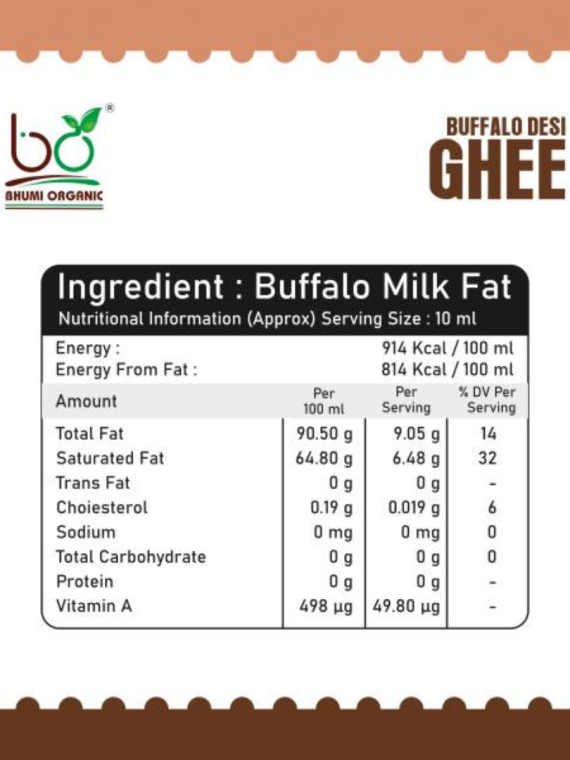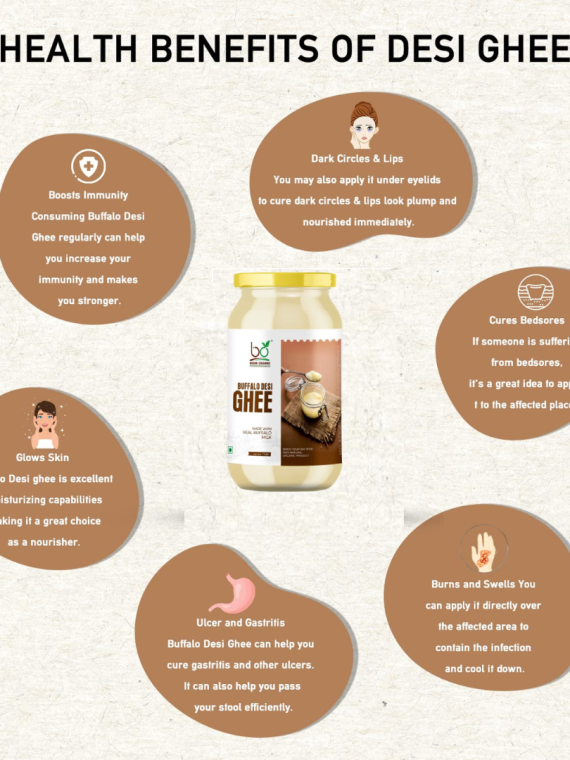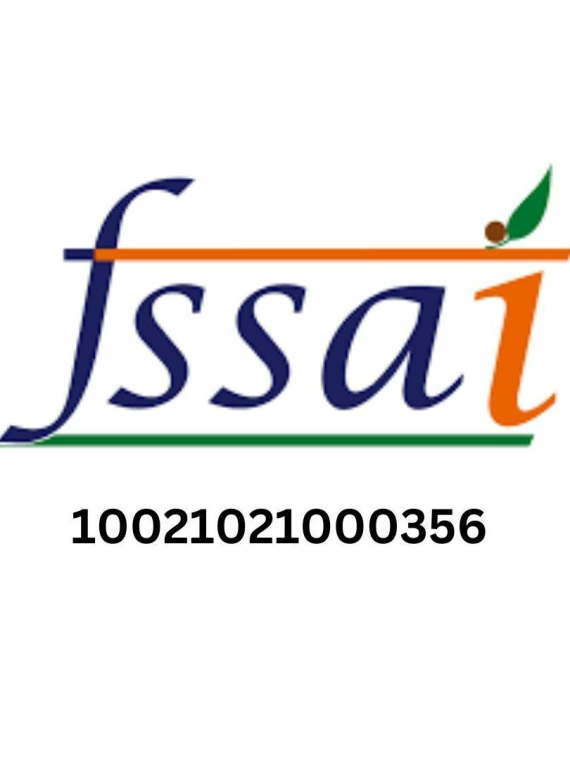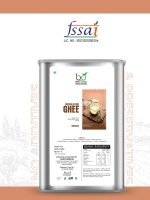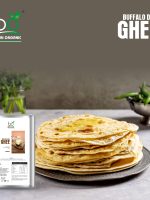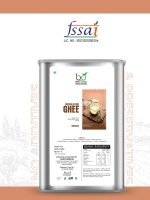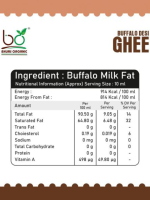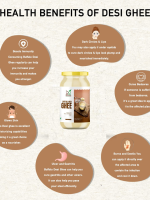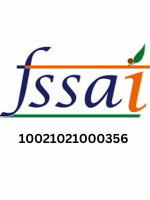 Bhumi Organic Pure Buffalo Bilona Ghee
292
people are viewing this right now

Guaranteed safe & secure checkout
Description
Bhumi Organic Pure Natural Desi Buffalo Ghee stands out for its exceptional quality and natural composition. Here's a summary of its key attributes:
Key Features:
Quality Ingredients: Made from indigenous Desi buffalo milk, processed using traditional churning methods that retain the natural nutrients.
Chemical-Free: Completely free from preservatives, chemicals, or additives, ensuring purity and naturalness.
Rich Aroma and Flavor: Offers a distinct taste and aroma, enhancing the flavor profile of various dishes.
Nutrient-rich: enriched with vitamins, minerals, and antioxidants, contributing to multiple health benefits.
Lactose-Free: Suitable for individuals with lactose intolerance, offering an alternative for those sensitive to dairy.
Premium Packaging: Packaged in high-quality containers to maintain freshness and flavor.
Health Benefits:
Boosts Immunity: rich in nutrients that support the immune system, aiding in overall health.
Aids Digestion: Helps in improving digestion, potentially alleviating digestive discomfort.
Promotes Cardiovascular Health: contains nutrients beneficial for heart health, contributing to overall cardiovascular wellness.
Lactose Intolerance Friendly: Suitable for individuals who are lactose intolerant, offering a dairy product without lactose-related issues.
Versatile Usage:
Cooking: A versatile ingredient suitable for various culinary uses, it enhances the taste and nutritional value of dishes.
Health Conscious Choice: Offers a natural alternative for those seeking organic and nutrient-rich dairy products.
Shipping cost is based on weight. Just add products to your cart and use the Shipping Calculator to see the shipping price.
We want you to be 100% satisfied with your purchase. Items can be returned or exchanged within 7 days of delivery.
There are no question found.
Quick Comparison
Settings
Bhumi Organic Pure Buffalo Bilona Ghee

remove

A2 Cow Cultured Ghee, Desi Gir Cow (TIN PACK)

remove

Moringa Ghee , Gir Cow A2 Cultured

remove

Full Moon Cultured Ghee, Desi Cow (TIN PACK)

remove

Turmeric Ghee , Gir Cow A2 Cultured

remove

Triphala Ghee, Gir Cow A2 Cultured

remove

Name
Bhumi Organic Pure Buffalo Bilona Ghee

remove

A2 Cow Cultured Ghee, Desi Gir Cow (TIN PACK)

remove

Moringa Ghee , Gir Cow A2 Cultured

remove

Full Moon Cultured Ghee, Desi Cow (TIN PACK)

remove

Turmeric Ghee , Gir Cow A2 Cultured

remove

Triphala Ghee, Gir Cow A2 Cultured

remove

Image
SKU
buffalo2000
girghee2000
MORINGAGHEE
FMDESI2000
TURMERICGHEE
TRIPHALAGHEE
Rating
Price
Stock
Description

Premium Quality: Pure Whites Premium Desi Ghee is made from the milk of the Murrah breed of buffalo, which is a domestic water buffalo that originated in India. It is the best buffalo breed in India, resistant to diseases.
No Harmful Chemicals: We follow traditional and ethical practices to maintain the quality and purity of ghee. Pure Whites Desi Ghee contains no additives, no preservatives, and no added colors—just wholesome goodness.
Murrah buffalo ghee can act as a remedy for stomach ulcers and other digestive issues. metabolism, consumption can also help in relieving issues like gastritis, constipation, and other stomach-related ailments.
Reveal the richness of ghee: The premium Desi Buffalo milk is used to make our ghee full of nutrients such as calcium, iron, sodium, and fat-soluble vitamins A, D, and E.
Desi Buffalo ghee: Our Buffalo desi ghee is full of nutritive fatty acids, an ideal fat source for an Indian vegetarian diet. Regular consumption of our high-quality ghee helps reduce cholesterol and improves the heart's functioning.

Made from the milk of A2 Gir cows using the traditional Bilona method, ensuring that the ghee is pure and natural.

It contains no preservatives, chemicals, or additives, making it a healthier and safer alternative to regular ghee.

Retains all the natural nutrients of the milk, providing various health benefits.

It is rich in flavor and aroma, making it a versatile ingredient for cooking and baking.

Contains essential fatty acids like omega-3 and omega-6, which are beneficial for heart health, brain function, and overall well-being.

Lactose-free, making it a suitable option for people who are lactose intolerant.

Comes in premium quality packaging that preserves the ghee's freshness and flavour.

Produced by Bhumi Organic, a trusted and renowned brand for organic and natural products.

Blend of Moringa (drumstick tree) and Gir Cow A2 cultured ghee
Moringa is recognized for its rich nutrient content and potential health benefits.
Derived from Gir cows known for their A2 protein, it is perceived as more easily digestible.
Rooted in Ayurveda for potential health advantages
Typically used for its potential health benefits linked to Moringa
Consultation is recommended, especially for health concerns or medications.

Bhumi Organic Full Moon Cultured A2 Desi Cow Bilona Ghee is made from the milk of Desi cows.
The ghee is made by fermenting cream under full moon light. This process enhances the flavor and nutritional value of the ghee.
The ghee is free from any preservatives, chemicals, or additives, making it a pure and natural product.
Bhumi Organic Full Moon Cultured A2 Desi Cow Bilona Ghee is rich in essential fatty acids, vitamins, and probiotics.
Ghee is considered to be beneficial for overall health and well-being, and it is also known to improve digestion, boost immunity, and enhance the skin and hair.

Blend of turmeric and Gir Cow A2 cultured ghee.
Turmeric is renowned for its anti-inflammatory and antioxidant properties.
Derived from Gir cows recognized for A2 protein, it is perceived as more digestible.
Rooted in Ayurveda for health-boosting attributes
Typically used for turmeric-associated health benefits.
Professional advice is recommended, especially for health concerns or medications.

Beneficial for weak eyesight
Improves bowel system
Help balance Vata and Pitta dosha in the body
Reduces mental fatigue
It helps improve appetite
Good for digestion
Excellent for skin and hair health
Prevents from infections, colds, and coughs

Weight
N/A
N/A
N/A
N/A
N/A
N/A
Dimensions
N/A
N/A
N/A
N/A
N/A
N/A
Additional information

| | |
| --- | --- |
| Weight | N/A |
| Size | 15 KG, 2 LTR, 5 LTR |

| | |
| --- | --- |
| Size | 100 ML, 1000 ML, 250 ML, 500 ML |

| | |
| --- | --- |
| Weight | N/A |
| Size | 15 KG, 2 LTR, 5 LTR |

| | |
| --- | --- |
| Size | 100 ML, 1000 ML, 250 ML, 500 ML |

| | |
| --- | --- |
| Size | 100 ML, 1000 ML, 250 ML, 500 ML |

Add to cart